AIRLEADER best practice hint #2
Bridge the RS485 bus via Ethernet
As standard, the AIRLEADER controllers communicate with the compressors via bus cables. The RS485 bus technology has made it even easier to integrate compressors that are far away (up to 1,200 m) into the AIRLEADER.
But sometimes it is difficult or impossible to place a bus cable, but there is already an Ethernet connection for a PC network or similar.
The RS485 signal can then be fed into the existing company Ethernet and uncouple it again at the desired point and feed it to the RS485 bus modules.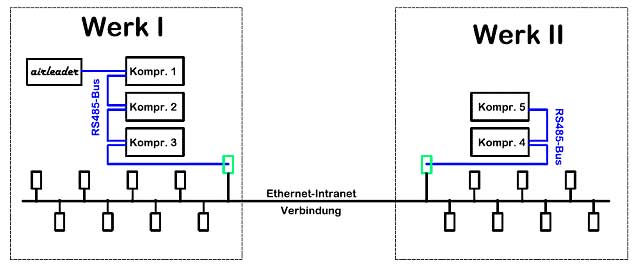 The RS485 signal is fed into an Ethernet network socket via a coupler and converted back into the RS485 format at the remote point via a second (or third) coupler.
In addition to the standard scope of delivery of the Airleader, only 2 special coupling modules are required.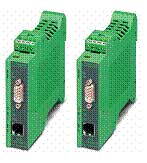 Approved are PHOENIX Contact Interface converter:
Airleader firmware version V 2.611 or higher required.
WF Steuerungstechnik GmbH
Zeppelinstraße 7-9
75446 Wiernsheim