Welcome to Airleader Compressor Management
Airleader is the intelligent control in your compressed air station

to increase efficiency


to minimize wear

to increase operational reliability.
to meet ISO 50.001


is eligible in much countries

for amortization in less than 2 years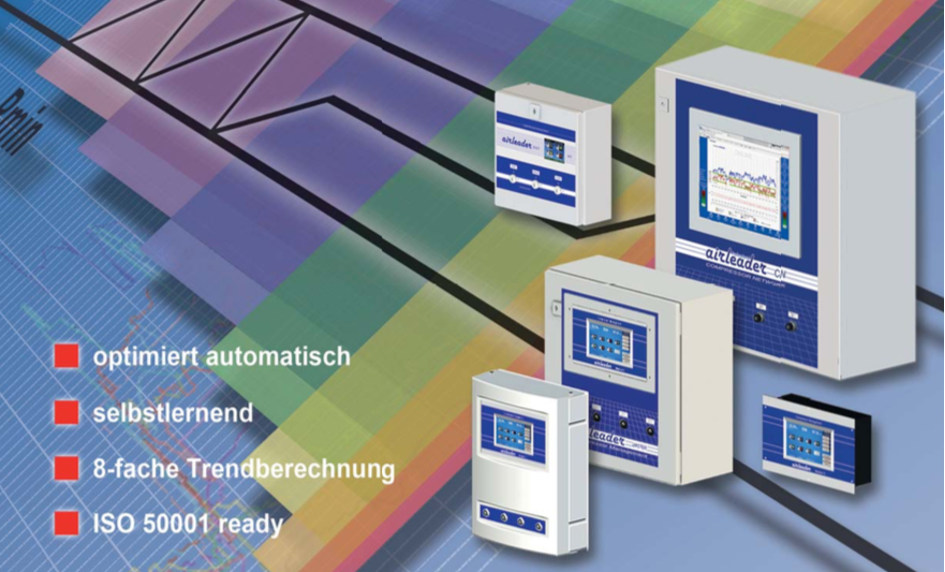 The Airleader compressor management system is independent of compressor manufacturers. Every brand and type of compressor, be it piston, screw, rotary, scroll or other positive displacement compressors - with an Airleader you have the highest level of safety and efficiency as well as complete transparency of all your recorded data.
Take your benefit from more than 25 years of experience and more than 10,000 efficiently operated compressor stations by Airleader:

Expertise for your compressed air station
Reduce costs and increase safety with Airleader
Efficiency increase
Airleader uses a recursive algorithm, taking the pressure gradient into account, to determine the current consumption in real time. This means that only compressor combinations that match the consumption are switched.
This prevents unnecessary compressor starts, minimizes idling losses and loads the compressors evenly.
All connected compressors are operated in a common narrow pressure band*, because pressure costs money - and more pressure costs more money! Around 10% per bar. So why spend more money unnecessarily ...
* Without falling below the previous lower pressure limits - as a result, a safe compressed air supply is guaranteed at all times!
Wear reduction
As a result of the consumption-dependent use of the compressors, operating hours and switching operations are drastically reduced.
The compressors are operated at a lower pressure, the utilization becomes more even, which leads to significantly lower maintenance and repair costs.
A 50% reduction is usual.
Increase operational reliability
With an Airleader you can feel the pulse of your compressed air generation. With the appropriate sensors, Airleader delivers the vital data of all compressors and accessory units such as dryers, filters, condensate drains, cooling water systems, ventilation technology, etc.
Bearing vibration monitoring is an early warning system for expensive compressor stages: A bearing defect detected in good time allows an inexpensive bearing change to be planned (!) before a compressor stage may sudden crash.
The oil temperature / cooling water monitoring detects thermal irregularities in the compressor before serious problems arise.
The kW / ampere measurement of each compressor is not only necessary for ISO 50.001, but also helps to identify defective compressors: When the compressor efficiency gets worse - or looks suspiciously good - then something is wrong!
The differential pressure monitoring shows the status of the filter technology: clogged and torn filters can be easily identified. Thanks to limit value alarm, it is of course also possible to replace the element at the right time.
With a heat meter for heat recovery, you can ensure that your "free" energy source is delivering, and in what quantity.
Last but not least: With Airleader you know your peak consumption and whether the supply is still guaranteed if a compressor fails!
Transparency by visualization
The standard web visualization gives you full control: You can see whether the station is running well - but also if something doesn't look good at all! This is the only way to continuously improve and optimize. All compressor states, messages and sensors are visible and stored permanently (> 20 years) in high resolution (10 second mean values).
This is quality assurance at a high level. You can check at any time whether in the past z. For example, an increase in humidity in the compressed air was responsible for a problem in production - or not!
The connection to higher-level (energy) management systems is also possible easily and without wiring using the OPC / Modbus server connection. Data export on USB stick, in MS Office with a click of the mouse or in many other formats is also a matter of course.
Airleader ensures full control with web server visualization:
What happens to the compressed air?

How fit are the compressors?

What are the costs?

What is the compressed air indicator?

How efficient is the compressed air?

How good is the quality of the compressed air?

Costs of 1 m³ of compressed air?

Compressed air consumption?

Automatically generated energy report per day / week / month / year

20 years d

ata memory

: All states, pressures, sensors in a 10 second grid!

Efficiency barometer

Service tool

Efficiency maintenance tool

Leakage tool